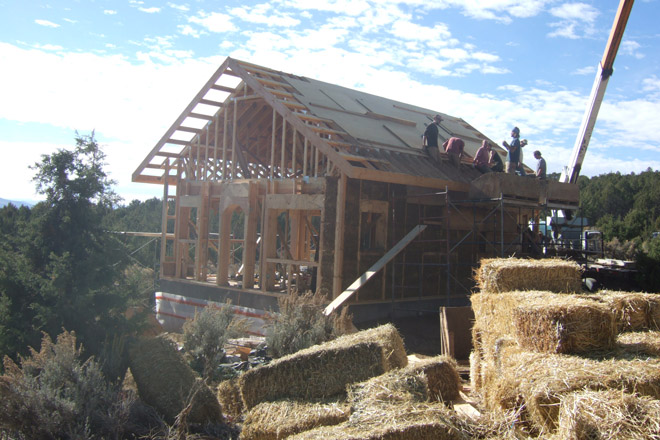 Confluence Architecture witnessed a natural, owner-built home get one step closer to completion last week when we participated in the wall packing on Dominic's house in Paonia, Colorado.  This house has been on the drawing board for over two years and it is great to see it under construction.  Confluence Architecture worked in partnership with Energy and Sustainable Design, Inc. and home owner, Dominic Anthony, to develop the efficient home plans for this Light Clay Straw building. Mark and Angela pitched in with a group of great volunteers to mix the straw with clay slurry, hoist the material to the wall cavities, and then foot pack the walls.
A light clay straw (or modified cob system) is a wall using minimal wood and consisting of primarily clay and straw.  The 1′ wide walls are framed with wood larsen trusses.  Temporary plywood forms are applied to the interior and exterior of the wall.  The voids are foot packed with a mixture of clay soils and straw.  Then the forms are removed revealing the dense straw and clay wall.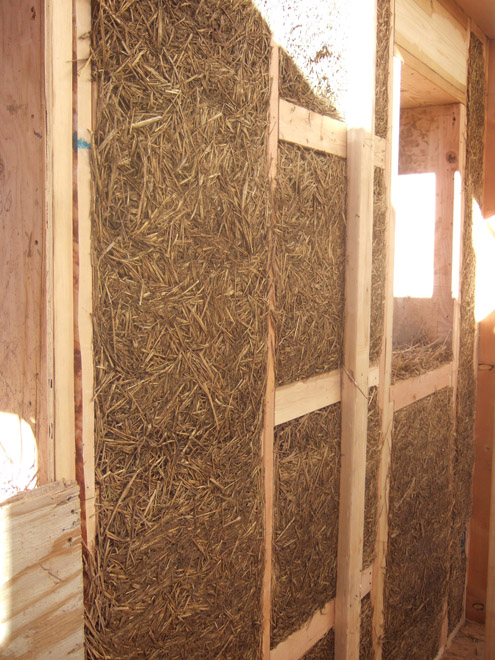 According to EcoNest "this combination of thermal mass (the clay soil) and thermal insulation (the fiber) is called "dynamic insulation" because in combination these qualities create very comfortable interior climate and a high level of energy efficiency." The home uses abundant local clay and straw to form the insulation and wall surfaces.  It eliminates the use of petroleum based products for insulation, building wrap and waterproofing that are so typical in modern construction. The team of volunteers was lead by a Crested Butte based contractor (Smith Works Natural Building) that is knowledgeable in the system.
Congratulations Dominic!  We can't wait to see the finished product.