The Confluence Architecture team is working on two LEED for Homes projects both located on Missouri Heights near Carbondale Colorado.  We are providing consulting and HERS rating services. LEED for Homes has  not gained traction in this area's custom home dominated market.  The Roaring Fork Valley lags behind the rest of the state with only 6 certified homes (see USGBC data). So it is exciting to be working on two projects in the area that will be certified in the next year. Other members of our LEED team include David Zilar of Today's BLDG acting as our Green Rater and Energy Logic as our LEED for Homes Provider.
LEED for Homes has several challenges in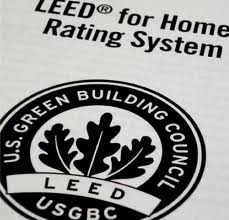 this area.  The focus and costs associated with the certification push those seeking LEED certification into the high end custom home. These homes tend to be larger than average and located on large, rural tracts – both LEED no-no's.  To make up for these shortcomings, Confluence Architecture focuses on energy efficiency, indoor air quality, sustainable materials, low water landscaping, and innovative design.
Like any certification program, the LEED for Homes rating needs to be tested against smart design for each home. For example, the LEED for Homes point "Building Orientation for Solar Design" has proved to be a challenge for both projects.  This was initially a surprise as both homes are smartly designed with both passive and active solar in mind. But the LEED requirement for 90% unshaded glazing at the winter solstice and 90% shading at the summer solstice has proved elusive. That balance is not necessarily the correct balance for a given home. One project has an expanse of southern glazing to capture extraordinary views, a 90% unshaded summer condition would result in overheating and a less sustainable home. At Confluence Architecture we strive to give clients direction on finding the LEED points that compliment and strengthen their project.  We will keep you updated and various LEED ironies and triumphs as the projects proceed.