The article called, "Sustainability integral to architecture firm's work" can be found on the website of the Post Independent of Glenwood Springs.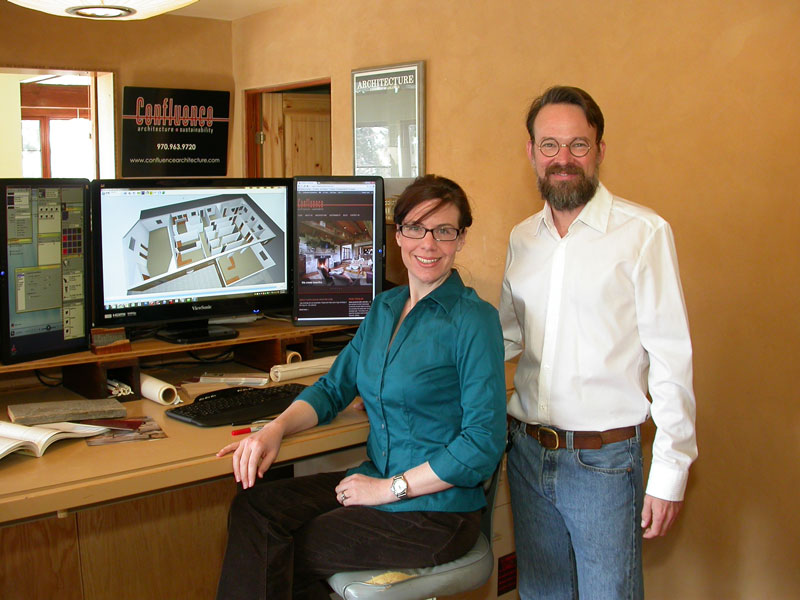 click here to link to the article
What does your business do?
Confluence Architecture designs beautiful and healthy spaces for people and businesses in the Roaring Fork Valley. We provide full architectural services for residential and commercial projects with a focus on environmentally conscious custom design. Confluence Architecture also provides sustainability consulting where we study energy use, material consumption, indoor air quality and comfort of residential and commercial buildings. We provide energy audits, HERS rating services, ENERGY STAR® certifications, IECC code compliance, LEED, Living Building and PassiveHouse services.
What sets your business apart from the competition?
Confluence Architecture has two distinctive characteristics for an architecture firm: sustainability and size. Sustainability is integral to everything Confluence Architecture does. We believe that the confluence of beauty, usefulness, efficiency and comfort provide the best designs. Sustainability is not a separate service but part of all of our work. This integration is dependent on the skills of our two staff professionals, Mark McLain and Angela Loughry. Both are licensed architects and sustainability experts with a combined 32 years of experience. While a small staff may appear as a limitation when compared with firms that employ numerous architects and support staff, we chose this business model because personal attention makes better projects, period. With Confluence Architecture, clients get personal, focused, and integrated service.
What positive lessons did you learn during the recession?
The recession increased public awareness of energy and building maintenance costs. This awareness allowed Confluence Architecture to demonstrate the value of our sustainable architecture services. We have sought value-oriented ways to get these services to clients. For example, we obtained a grant from the Colorado Energy Office to provide low-cost continuing education classes for Realtors and architects in the region on sustainability in homes. These classes opened avenues for targeted consulting with other professionals. We also offer home and business energy audits. These are low-cost, in-depth analyses of existing buildings and provide clients with a clear understanding of their buildings and clear steps to improve building performance. These audits often lead to remodels and retrofits where we maximize outcomes with limited budgets.
What strategy do you use to hire good people?
Confluence Architecture wants to stay small and personalized. That being said, we can't do everything. Rather than hire employees, we typically work with other talented professionals in the region on contract basis. One key relationship we have is with Rich Backe of Energy Efficient Solutions (EES). His company has the expertise to execute air-sealing and energy retrofit work that we prescribe in our energy audits.
What is your strategy for growth in the next year?
First we plan to keep getting better at what we do. Both Mark and Angela are vigorous about pursing education to keep their skills cutting edge. The sustainability world is evolving rapidly and Confluence Architecture is committed to being the up-to-date source in the region. Second, we plan to continue our value-oriented approach. If you think an architect is unnecessary or their fee is out of reach, give us a call and we will show you the value we can bring to your project.
What is the best thing about running a business here?
We are lucky to live and work here. The beauty of our natural environment and the communities that thrive here influence our practice. We are inspired to make architecture as beautiful as our surroundings and challenged to ensure that low energy and material use preserves the health of those surroundings.