Pitkin County as has a new Energy Code Ordinance in effect as of July 22, 2020, Title 11 Section 11.32
Pitkin County, Climate Zone 7,  has added a residential energy conservation addendum for new construction and remodels, on top of the 2015 IECC requirements. Why? Basically, it is to bring construction in line with the Climate Action Plan. PitCo sponsored some fascinating research. One study says that about 70% of GHG (Green House Gas) emissions in Pitkin County are from the built environment. Another study predicts that more houses will be built in Pitkin County. Yet another study tracked the energy consumption of 900 houses for four years then, consumption was compared to house size. One might expect a 10,000 square foot house to have ten times the consumption of a 1,000 square foot house, but the study shows that the consumption of an average 10,000 square foot house was closer to thirty times the consumption of the 1,000 square foot house! How is this possible? It is because as the houses get bigger, they tend to get more luxurious. This means the house is more likely to be packed with energy-consuming amenities like; high percentages of glazing, large interior volumes, snowmelt, pools, hot tubs, saunas, conditioned wine cellars, conditioned garages, audio-visual-security systems, humidity control, air conditioning, multiple redundant appliances, steam showers, multiple redundant shower heads, heated toilet seats and towel bars and a plethora of other electric-powered gizmos.
The addendum has been come to be know as "The Matrix" because of the table format that outlays the requirements. There are two tiers of compliance; one for houses under 5,750 square feet and one for those over. The Matrix also makes a differentiation between houses that have more and less than 15% glazing. There are special requirements when working with existing construction, including; an energy assessment of the existing structure, air sealing improvements and occupant, crawlspace and attic ventilation compliant with current code.
New Construction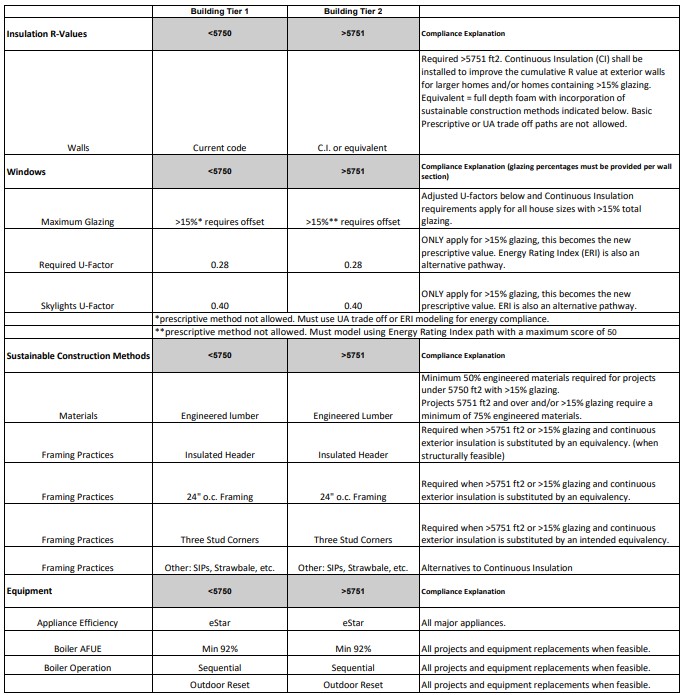 The HERS/ERI compliance information is found under the IECC adoption, in the REMP section, Appendix A.
What does this mean for the Architect?
HERS of 60 before renewable energy is applied, HERS of 30 afterwards.
Significant mandatory requirements; 50%-75% engineered lumber, insulated headers, 24" stud spacing, insulated corners or alternate construction, glazing U-factor of .28, ENERGY STAR appliances, mechanical commissioning of complex systems, sealed ductwork, garage exhaust fans, rough-in for PV and thermal solar and EV charging outlets.
Any house with more than 15% of its walls glazed will be required to use the 2015 IECC UA trade-off (REScheck) or ERI compliance (HERS Rating) alternatives; no prescriptive submittals.
Any house larger than 5,750 square feet will be required to use the 2015 IECC ERI compliance alternative; no UA trade-off or prescriptive submittals.
Get in the habit of retaining an Energy Rater, early in the process.
Upgrades to existing homes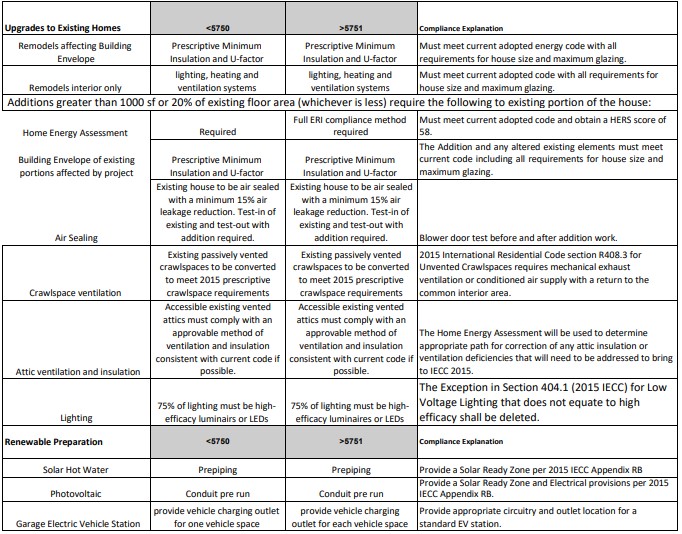 Remodels and small additions are standard, just meet the code with your new construction. Upgrades required when assemblies or systems are demoed in the course of work.
If your project is a larger addition, you will need a Projected HERS rating and an infiltration test on the house before you start to create a baseline, that must be surpassed by 15% at the final. The Projected HERS will help create a road map to the required Confirmed HERS rating of 58. Getting a existing house with a n addition to HERS 58 could be easy, or it could mean work on the existing portion and/or additional renewable energy production, depending on state of the existing house.
REMP
Link to PitCo Building & Energy Codes page where you can find the REMP calculator spreadsheet.
Confluence Architecture & Sustainability can help with REMP calculations and provide all the documentation, modeling, testing and certification required to navigate the Matrix.
Jump to Energy Conservation Code Hub for; the western slope of Colorado; Aspen, Telluride, Mountain Village, Town of Snowmass Village, Basalt, Carbondale, Pitkin and Eagle County…