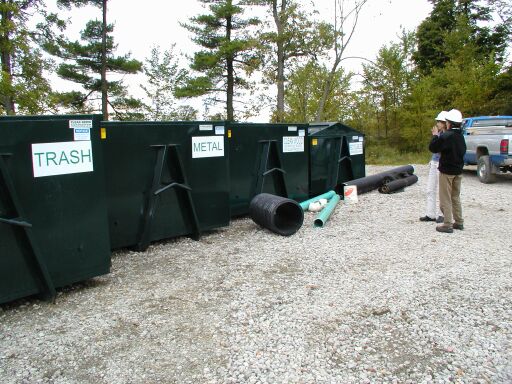 Confluence Architecture is consulting on a LEED for Homes project on Missouri Heights between Basalt and Carbondale Colorado. The team is trying to maximize the diversion of Construction Waste.  Unfortunately, in the rural Roaring Fork Valley, we don't have robust resources for recycling of construction waste.  Our best resource currently is Pitkin County Landfill. They will take all non-treated wood and process it for compost.  This includes wood with glues such as OSB, TJI's or glu-lam cutoffs.  They will also process all mixed recyclables, cardboard, and metal.  A good second source is the Habitat for Humanity Re-Store which will take usable construction scrap.  Beyond these sources a project team needs to get creative.
Facilities that take ceramics, EPS insulation and PEX and ABS piping are in the Denver area at Eco-Cycle Center and other locations.  We are debating with viability of collecting a truck load of these materials to transport to Denver.  If there are other construction projects in the area that have an outlet for these materials or would like to partner with us on a Denver run, let us know with a comment here.
We have not found a good source for insulation cutoffs (XPS, polyiso, and fiberglass batt) or TPO roofing cutoffs.  Nationwide Foam and other large companies are not interested in our small and out of the way quantities. If anyone has any tips- let us know.
On the top of my wish list for 2013 is more manufacture take back programs like Armstrong, Sika Sarnafil, and ACH foam.  These manufacturers provide a relatively easy source for return of construction cutoffs or used materials.  I wish this were more the rule than the exception! Also wishing for some local waste handling companies to step up and partner with some Front Range recycling companies for Roaring Fork Valley construction waste.  Maybe MRI will be able to provide more of this service with their new Waste Transfer Station in Carbondale.