Here is a list of all of the data that needs to be put into a HERS energy model…
Geometry, location and orientation
CAD drawings in DWG or DXF format
Drawings in PDF format (or paper)
3D model in SKP (SetchUp) format (optional but really helpful)
Ceiling/roof type
– Rafter
– Attic
Vented (insulation on ceiling)
Sealed (unvented, insulation on roof sheathing)
Crawlspace type
Vented (passively or actively)
Conditioned
Open (on piers, not enclosed)
Sunspace (atrium, greenhouse)
None or detached
Attached but isolatable
Insulation location, type and levels
Insulation schedule or drawings that call-out all of the insulation location, types and levels.
Basement & crawlspace walls: top of concrete and finished grade line
Mass walls:
Skylites:
Ground under crawlspace or slab:
Rim board/band joists:
Above grade walls:
Windows:
Ceiling/roof:
Framing; standard or efficient?
Mechanical systems
Fuel source, type, size and efficiency of all machines
Mechanical distribution
Type, insulation level and location of ductwork
Infiltration rate and supplemental ventilation
Target air exchange rate
Mechanical ventilation rate, cycle period, wattage of fan
If a HRV or ERV is utilized, also need sensible and total recovery efficiencys
Lighting and appliances
Percentage of high-efficacy lighting (optional)
Consumption of appliances (optional)
Interior thermal mass
Area and thickness of supplementary thermal mass; divided into sun-strike and shaded areas
Renewable energy production
Thermal solar
Heating DHW only, or DHW plus space heating
Collector type
Collector area
Volume of water storage
Photovoltaic solar
Array area
Peak power production
Inverter efficiency
Ground Source Heat Pump
Well type; horizontal or vertical
Number of trenches/number of wells
Length of trenches/depth of wells
Flow rate
Registration information
Name, address, email, phone number of the project, owner and builder
Next steps
Remember to notify HERS rater to schedule an insulation inspection before it is covered. Rater will verify quantity and quality of insulation installation.
Remember to notify HERS rater to schedule the final inspection and test. Rater will verify specifications of mechanical equipment and renewable energy systems. Rater will perform blower door test and ductwork testing if required. Rater will upload HERS rating to the RESNET registry and then issue the confirmed certificate.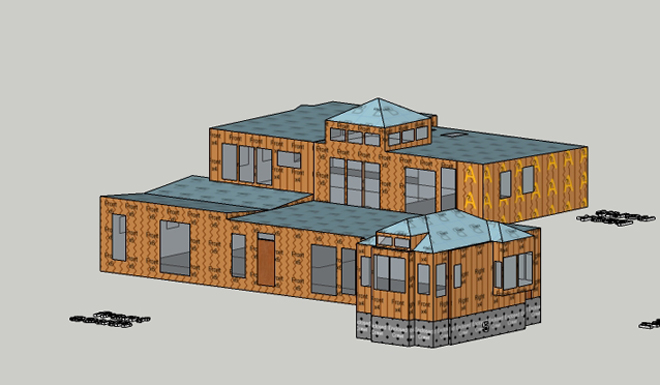 How is a HERS Rating different from a REScheck?
The software used for HERS Ratings is much more sophisticated (and complicated). It can consider many more factors than can the software used for RESchecks. For instance, REScheck does not factor in air-infiltration, thermal mass, renewable energy production, etc.  into the energy calculations. These extra factors will lower the projected energy consumption. So a project that fails the energy code using REScheck may pass using a HERS rating.
HERS ratings must be performed by someone trained and certified. HERS raters have to; go to school, test to certify, carry liability insurance, annual quality assurance reviews, continuing education, purchase equipment, annual equipment calibration, software fees, vehicle travel to inspect and test, membership dues and pay a review fee of $65 per rating.