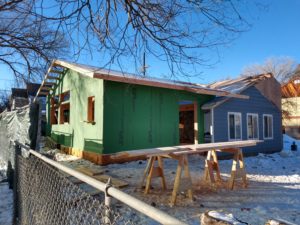 Confluence Architecture along with local non-profit  Blue Lake Preschool  is honored to announce that after searching  for 5 years they were able to find a permanent location. Last September, Blue Lake Preschool  acquired the  property at 55 N 7th st, which happens to be the former residence of Mary Ferguson, a Carbondale icon. She was born at Spring Gulch in 1906, taught in one room schoolhouses, was a town council member, a volunteer and historian.  We find this connection to be a valuable  continuation of  Mary's love of teaching.
Construction is now underway on the addition and remodel to to transform this 1950's ranch home into an energy efficient  healthy and cozy preschool. Some of the energy efficiency  attributes include  addressing air circulation and filtration by utilizing a HRV system with Merv 13 filter, and upgrading  the insulation.  We seek to replace all the flooring with environmentally friendly natural linoleum and will use zero or low VOC paints.
Confluence Architecture has thrown its support behind this worthy project by contributing our professional services of  planning, property analysis, and Architectural services.  Blue Lake Preschool  is seeking funding to assist with construction.  This permanent home will allow Little Blue to increase the number of infant care spaces in Carbondale, a critically underserved demographic. We encourage all to donate to this worthy cause.  Donations can be made at Blue Lake's website  https://bluelakepreschool.org/donate.