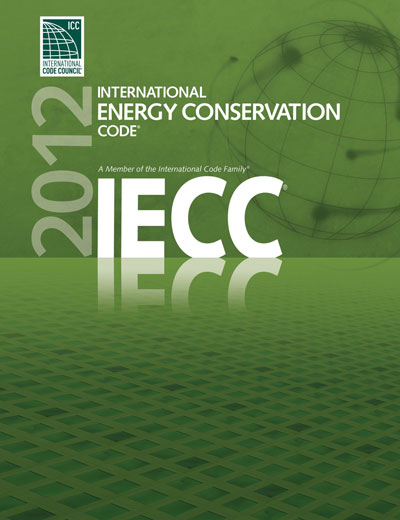 The Town of Snowmass Village is one of the first municipalities in Colorado to adopt the 2012 International Energy Conservation Code for both residential and commercial buildings. Theses codes go into effect December 1st 2013. Confluence can help you with Prescriptive or Performance compliance with the code.  To learn more, read below.
What do the code changes mean to your project?
The 2012 code requires more drawings and specifications, more insulation, a tighter envelope, tighter ducts, and more efficient lighting than the 2009 code. Here is a summary of the important changes for designers and builders in climate zone 7:
Construction Documents must be submitted for review that present a comprehensive strategy to deal with heat and energy in a home.
Blower door testing requirements have become mandatory and more stringent; the 2009 threshold of 7 ACH50 has been changed to 3 ACH50.
All homes will be required to have a whole-house mechanical ventilation system.
Prescriptive wall insulation requirements have become more stringent, builders will be required to install exterior rigid foam insulation (or to use some other comparable wall insulation strategy).
Prescriptive duct tightness requirements have become more stringent.
Prescriptive lighting requirements are now at 75% high-efficacy lighting fixtures.
Permit submittal requirements
Requirements are different depending on whether the applicant is choosing the prescriptive or performance path to approval. But basically, the thermal envelope must be delineated especially its relationship to attics, cantilevers, crawlspaces and attached garages. Documents must include air barrier and water management details, and descriptions of thermal and vapor barrier specifications. If the performance path is used, then energy modeling certificates are required.  Confluence can provide envelope consulation including prescriptive path details or energ modeling for your project.
Air barrier inspection
The new 2012 code doesn't give builders a choice anymore; builders now have to comply with both the checklist requirements and the requirement to conduct a blower door test. See the condensed inspection list below:
"A continuous air barrier shall be installed in the building envelope. Exterior thermal envelope contains a continuous air barrier. Breaks or joints in the air barrier shall be sealed. Air-permeable insulation shall not be used as a sealing material."
"The air barrier in any dropped ceiling/soffit shall be aligned with the insulation and any gaps in the air barrier sealed. Access openings, drop down stair or knee wall doors to unconditioned attic spaces shall be sealed."
"Corners and headers shall be insulated and the junction of the foundation and sill plate shall be sealed. The junction of the top plate and top of exterior walls shall be sealed. Exterior thermal envelope insulation for framed walls shall be installed in substantial contact and continuous alignment with the air barrier. Knee walls shall be sealed."
"The space between window/door jambs and framing and skylights and framing shall be sealed."
"Rim joists shall be insulated and include the air barrier."
"Insulation shall be installed to maintain permanent contact with underside of subfloor decking. The air barrier shall be installed at any exposed edge of insulation."
"Where provided in lieu of floor insulation, insulation shall be permanently attached to the crawlspace walls. Exposed earth in unvented crawl spaces shall be covered with a Class I vapor retarder with overlapping joints taped."
"Duct shafts, utility penetrations, and flue shafts opening to exterior or unconditioned space shall be sealed."
"Batts in narrow cavities shall be cut to fit, or narrow cavities shall be filled by insulation that on installation readily conforms to the available cavity space."
"Air sealing shall be provided between the garage and conditioned spaces."
"Recessed light fixtures installed in the building thermal envelope shall be air tight, IC rated, and sealed to the drywall."
"Batt insulation shall be cut neatly to fit around wiring and plumbing in exterior walls, or insulation that on installation readily conforms to available space shall extend behind piping and wiring."
"Exterior walls adjacent to showers and tubs shall be insulated and the air barrier installed separating them from the showers and tubs."
"The air barrier shall be installed behind electrical or communication boxes or air sealed boxes shall be installed."
"HVAC register boots that penetrate building thermal envelope shall be sealed to the subfloor or drywall."
"An air barrier shall be installed on fireplace walls. Fireplaces shall have gasketed doors."
Every new home must pass a blower door test
Once you have completed the air-sealing checklist, you still need to conduct a blower door test.
The maximum air-exchange rate of 3 ACH50 is a significant change. We have performed many blower door tests for new construction throughout the Roaring Fork Valley and I can say that builders had no problem at all staying under the 2009 IECC requirement of 7 ACH50. Staying under 3 ACH50 does take some attention to detail. This can be especially challenging for remodels and additions, where a builder may be forced to conduct air-sealing in the existing areas of the home. Confluence provides blower door testing.
Mechanical ventilation
In the case of Snowmass Village, this one is a bit odd because the 2012 IRC has not been adopted yet. The IECC requires homes to achieve 3 ACH50, but doesn't have any requirements for mechanical ventilation. That requirement is found in the mechanical section of the 2012 IRC (M1507.3). It says that a house that has an air-exchange rate of less than 5 ACH50 must include a whole-house ventilation system. Regardless of this loophole in the code, any house that has an air-exchange rate of 3 ACH50 should have a mechanical ventilation system.
Above-grade walls
The 2012 IECC ratchets up some minimum prescriptive insulation levels in climate zone 7. The minimum crawl space wall R-value has been increased from R10 continuous to R15 continuous and the new code calls for above-grade walls to have at least R20+R5 insulation or R13+R10 insulation.
The first value is cavity insulation; the second is continuous insulation or insulated siding. So '13+5' means R13 cavity insulation plus R-5 continuous insulation or insulated siding. Note that all of these code requirements are minimum requirements. In many cases, the minimum code requirement for the R-value of the continuous insulation is not enough to keep OSB or plywood wall sheathing above the dew point in winter. Spray Polyurethane Foam and SIPs can be used in lieu of applying rigid insulation. The only options that do not require some kind of foam product are some of the rarely seen wall assemblies like; double-framed walls, ICFs and straw bale.
Duct tightness testing
Like the 2009 codes, the 2012 IECC requires duct leakage testing unless the duct system is located entirely inside of the home's thermal envelope. The new code has increased the stringency of the duct leakage thresholds. The bottom line: if you must have ductwork outside the thermal envelope, then get out your tub of mastic and seal everything.
High-efficacy lamps
The 2012 IECC requires that a minimum of 75 percent of the lamps in permanently installed lighting fixtures shall be high-efficacy lamps. Basically this means no incandescent lamps or T12 fluorescents.